13 Attractive & Responsive Free PrestaShop Themes of 2022
Are you thinking of starting an online business but don't want to stress about PrestaShop pricing?
Here we have 13 stunning and responsive themes that are free of cost. These PrestaShop themes range across all sorts of business types. Scroll through some of this year's most attractive and budget-friendly PrestaShop themes for industries like food, fashion, electronics, plants, and more!
Despite varying PrestaShop pricing metrics, PrestaShop themes are easy-to-use, effective, and visually pleasing modes of starting your very own eCommerce journey. Each theme is customizable to include whatever changes the seller wishes to make.
Building a website does seem like an intimidating venture, but these themes are simple and need no tech-savvy approach. The smooth running of your website is also guaranteed without any errors or technical hiccups. Above all, these PrestaShop themes are all free.
PrestaShop Theme Features That Will Make Your Online Business Pop
Besides being aesthetically pleasing and straightforward to use, PrestaShop themes provide special custom features that amp up the usability and accessibility of your digital business.
Cross-browser compatibility
SEO (Search engine optimization) friendliness
Multiple language support
Google Web Font
Grid layout
Unique favicons
Catalog management
Payment and accounting modes and so much more.
PrestaShop's demographic assistance makes the localization of language and currency simple. This makes the seller's page extremely accessible worldwide, significantly boosting your chances of generating considerable revenue from your digital store.
Even better, secure payment modes are a unique advantage as reliable payment options like Google Checkout and PayPal are used. What's more, the SSL protocol system and one-page checkout process increase the probability of greater product purchases.
High-cost PrestaShop pricing plans for themes and their limited scalability may be disadvantageous, but as the themes mentioned in this list are free of cost, you may come across the perfect choice for small and medium scale businesses.
Let's hop right in.
1. Grancy: Party Decoration Store Theme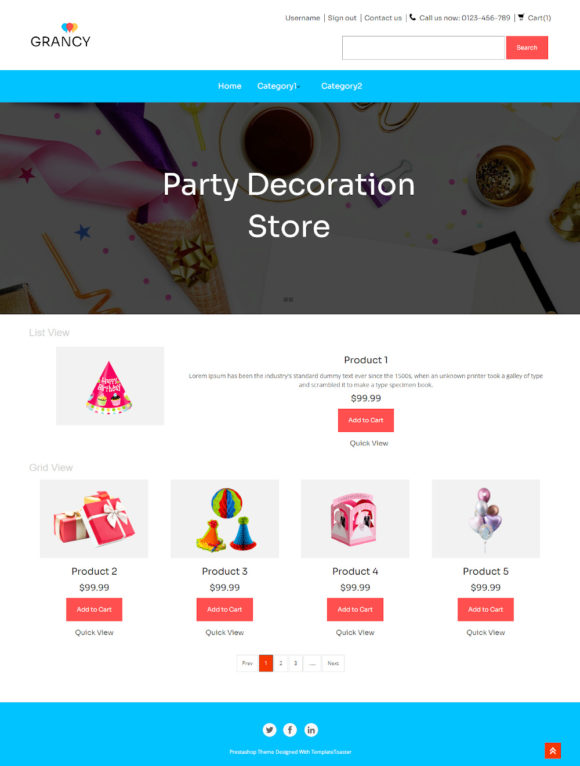 This online decoration store theme is perfect for any party organizing business, interior or exterior design company, and decor professionals. Grancy has become a top choice for furniture stores, design tools, and other multipurpose stores due to its incredibly multifaceted nature.
What's best, you can easily customize the color scheme, images parameters, number of pictures, and varying content elements on the page to your brand's suitability.
Here are some useful features:
Google Font Integration
Bootstrap framework that helps accessibility on all devices
Social share icons
Unique favicons
YouTube video integration
Photo gallery
Cross-browser compatibility
Support for multiple languages
Color combinations and a lot more.
Now, all there is to do is install this free theme with or without any minor changes and begin creating a dashing website!
2. Fashion Store: Clothing Store Template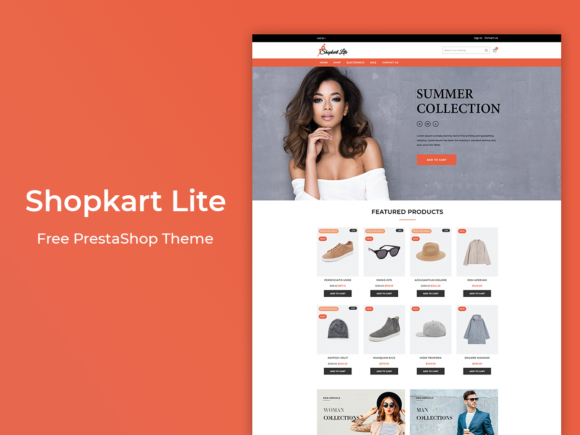 This versatile online fashion store theme is a must-have for any budding fashion business. This theme can apply to all sorts of fashion, from jewelry to shoes and even wearable accessories. Not to forget, the theme designers have emphasized convenient usability and navigation for the shoppers. Such efforts play a significant role in eliminating high website bounce-off rates.
Although not a customizable theme, its rich functionality and classic design make it extremely user-friendly.
As it is a mobile-friendly theme, shoppers can access the store easily on almost any device – making it suitable for brands targeting larger audiences.
Features like:
SEO (search engine optimization) friendly
Unique block design
Product labels
Custom slideshow
And so many more make your online fashion business accessible and usable to the max.
3. Backyard Care: Gardening and Landscaping Template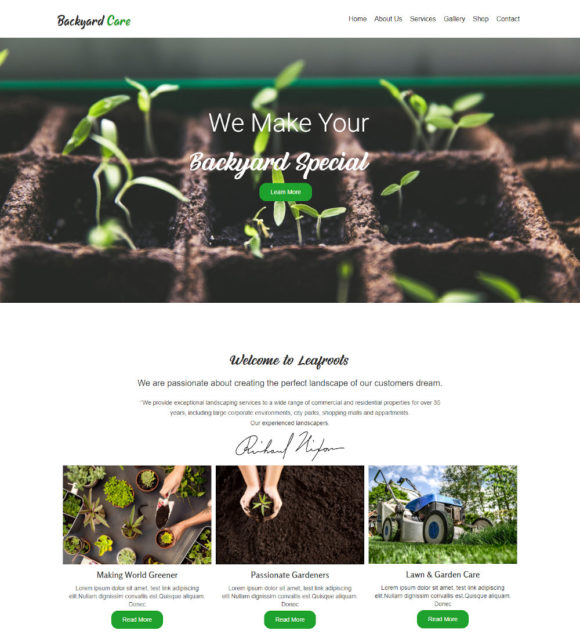 This theme is quite suitable for small business service pages and perfect for the currently trending botanical and agricultural market. From professional gardening to landscaping to backyard DIY enthusiasts, this theme has enough capabilities to publish high-quality guides, listicles, and even premium graphic content.
Talk about its aesthetically rich and exquisite color scheme, and you have a must-try PrestaShop theme choice, irrespective of with or without changes.
Additionally, it is contemporary, seamless, and easy to use on all devices, from a smartphone to a PC.
This theme also has many pre-designed pages that the seller can use. Thus, saving you valuable time and letting you instantly begin showcasing your product or service offerings to viewers.
Besides being fully responsive and a proud owner of raving customer reviews, this theme contains advanced features like:
Supports multiple languages and currency
Quick view of product
Product comment module
Product wish list module
Related product slider on the Product detail page
Same category product on the Product detail page
With this and a hoard of multipurpose features, this theme's professionalism and flexibility make for a fabulous choice. And that too with zero PrestaShop pricing!
4. Traviar: Tourist Places PrestaShop Theme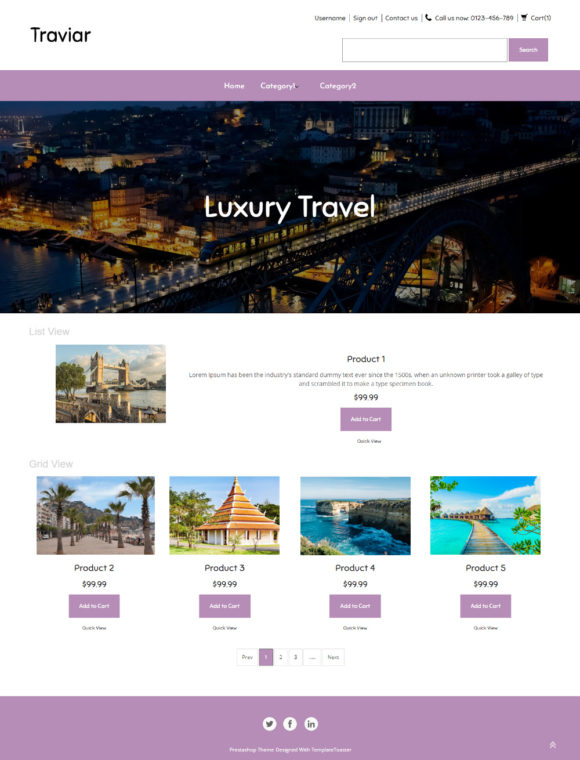 One of the best themes with no PrestaShop pricing, Traviar is a highly customizable, visually stunning theme with a mere five pages. Users have praised its incredibly smooth and uninterrupted functioning on any device, be it a tablet, android, or a lower version of a Windows laptop.
Because of the demand for online businesses stemming from the travel industry, this theme decorates itself with a clean and straightforward format that brings elegance to the user's eyes.
Some valuable features include:
Add a YouTube video or a custom video of choice in the Header or Footer to boost your campaign/products
Multilingual support
Google Font Integration
Grid layout
Social share icons
Supports CSS3, HTML5, RTL language layout, Bootstrap4 framework to create sophisticated web pages quickly and efficiently
Many PrestaShop theme creators openly state this as the jack-of-all-themes that can be modified for almost all your business needs.
5. Book Readers: Books and Stationery Shop Template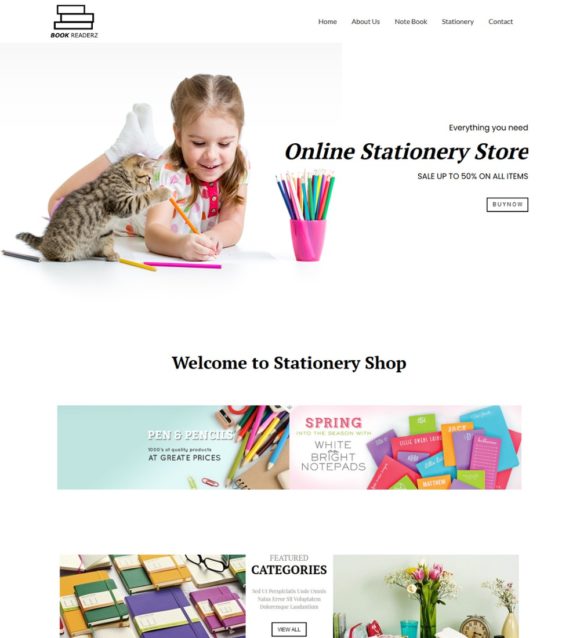 Build your dream stationery or bookstore online with this fully responsive and mobile-optimized theme!
Online libraries, bookstores, and stationeries have only gained momentum over the years, and this is the perfect PrestaShop theme to implement if you're lacking in funds and wish to cater to the readers of this globe. Also, it is entirely editable and enjoyable to customize as you want.
For smooth functioning, it comes along with features like:
Cross-browser compatibility
Multilingual support
Photo gallery
Grid layout
Color scheme
YouTube video integration
Unique favicons
Effective payment gateway compatibility and a lot more.
As it contains unique UI elements, Book Readers makes for an ultimate choice for an online bookstore or stationery.
If you liked any of the PrestaShop themes so far and wish to inculcate either one for your brand's most vital digital footprint, get in touch today.
6. Cognitist: Psychology and Counseling Template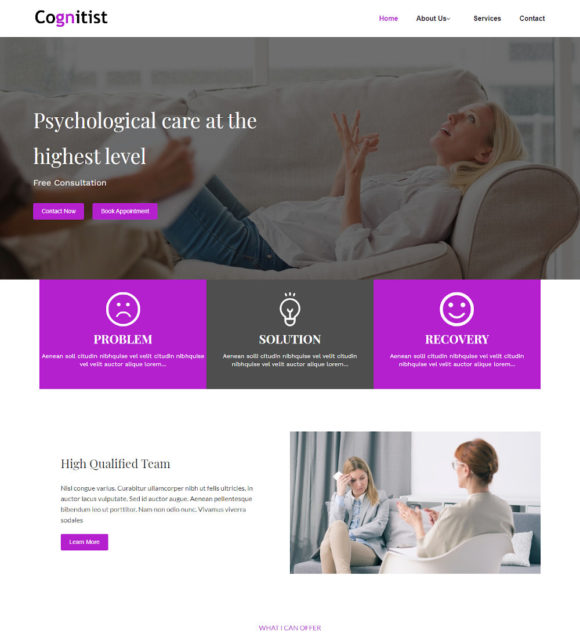 Cognitist is a sophisticated and highly relevant template that works in a broad capacity in the health and wellness industry. This template can effectively be deployed for any online counseling, psychiatrists, medical consultants, psychologists, therapists, and other health care professionals.
Above this, its creative style and responsive layout make it appealing and user-friendly. PrestaShop users are privileged with its no-cost approach despite the potential for creativity in this free theme.
It is a fully responsive and efficient template built with CSS3 and Bootstrap framework. After rigorous load and speed testing across various devices, it has been deemed suitable for budding businesses.
Social share options and additional features focused on bringing the critical aspects of generic wellness-based brands make it a creative and handy template to work with.
7. Shop Now: PrestaShop Template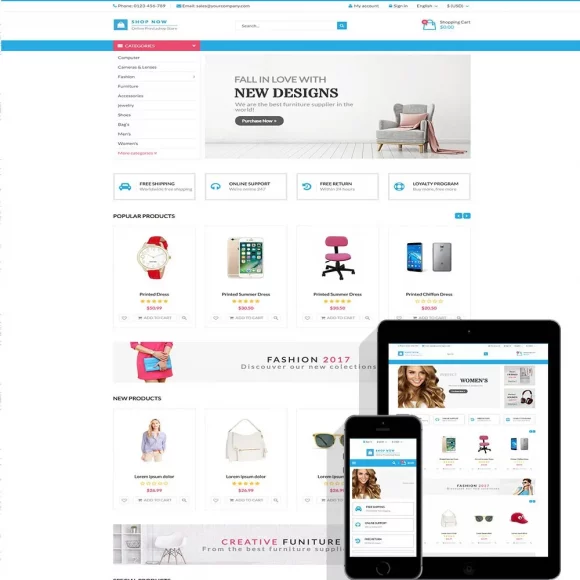 Shop Now is a multifaceted PrestaShop theme that can be applied to several different online business stores. Its preparedness and built-for-diversity attitude stand out, making it an epic choice for any industry. This theme can accommodate them all perfectly, from fashion and retail to furniture and appliances.
Shop Now houses numerous and highly functional features like:
Visual drag and drop layered slider module
Visual drag and drop mega menu module
Bulk order module
Responsive newsletter popup
8 preset colors or support custom colors
3 contact page layouts
3 product page layouts
SEO optimization
And many more, which make this a "master theme" that will set your business page apart!
While the theme has a respectable response rate, it also provides multilingual and multi-currency support to provide maximum accessibility. The additional social media module will practically bring your products to your customer's screens.
Above this, time-tested secure payment gateways and the 1-page checkout process enable users and customers to have a safe and reliable experience with your site.
Install this theme and get started on your online store!
Also Read: Prestashop vs. Woocommerce: Which One Wins The Race?
8. Covid-19: Social Awareness and Prevention Template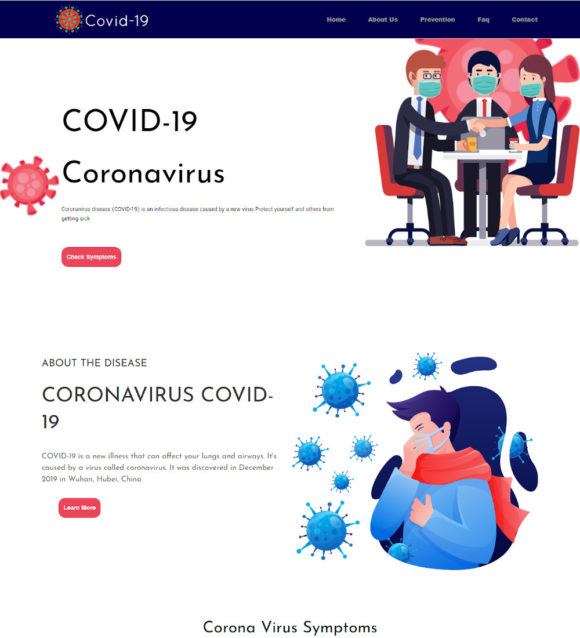 The only cure to the pandemic is taking the proper measures and being well informed. This specific template can be used to spread awareness and teach prevention on a large scale.
Not to be overly supportive, but saving lives through digital offerings has become more manageable, and well-presented, accurate information has become more accessible with this template.
This zero PrestaShop pricing template comes with several other features like:
Cross-browser compatibility to help others access information through any browser
Multilingual compatibility
Easy customization options
Such digital facilities are specially designed to maximize the reach healthcare providers desire to offer, mainly for providing correct knowledge to vast audiences.
9. Language School Template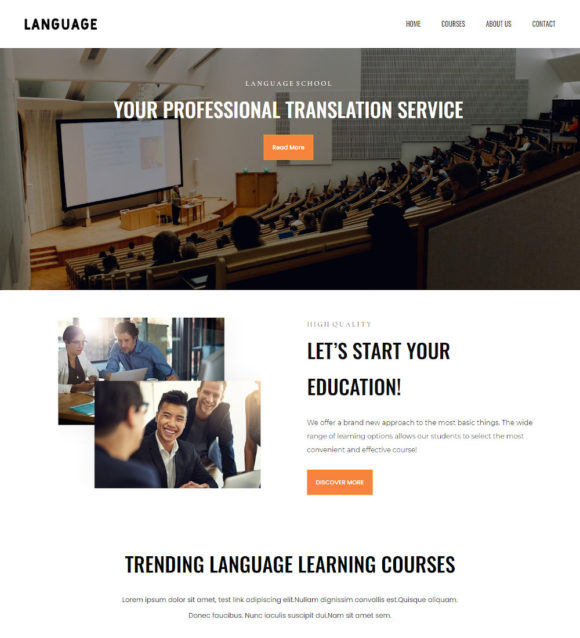 The language learning template is ideal for online learning. Its features help create a thoroughly efficient business site that can be accessible to students worldwide.
Whether for high schoolers, graduates, or ESL students, you'll find your digital marketing efforts a whole lot more under your control with this theme.
Features like:

Google Web Font integration
Cross-browser compatibility for users to easily access your site through all browsers
Multiple language support
YouTube video integration
Social media sharing for maximum reach
And much more makes finding a well-regulated and aptly built space for online learning a virtual reality!
10. Recruitment: Human Resource and Recruitment Agency Template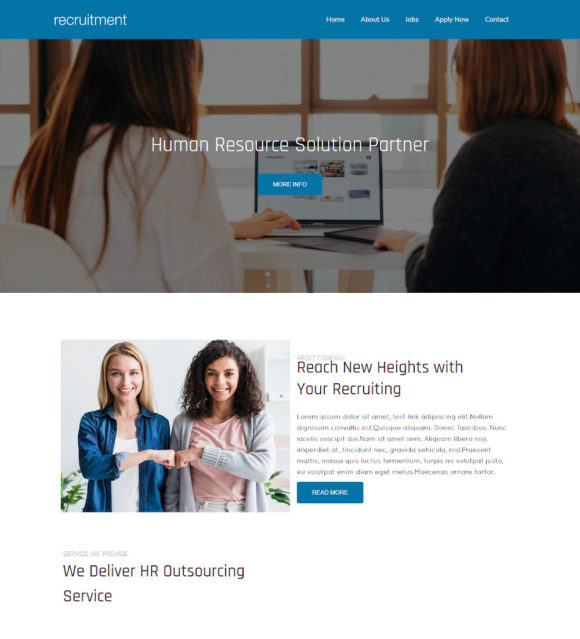 This theme is ideally suited to building a website for recruitment agencies, HR consultancy, recruitment firms, job portals, and similar businesses looking to establish a digital presence.
Whether you're here to attract leads for HR activities or you plan to develop a B2C offering for job seekers, the advanced features ensure your hiring efforts are simplified.
Its efficiency is credited to several features like:
Supports CSS3
Powered by Bootstrap framework
Cross-browser compatibility
RTL support
Social share icons
Payment gateways compatibility
Custom CSS and JS integration
Google font integration
Speed optimization
SEO
11. Creative Concept: Portfolio and Creative Work Template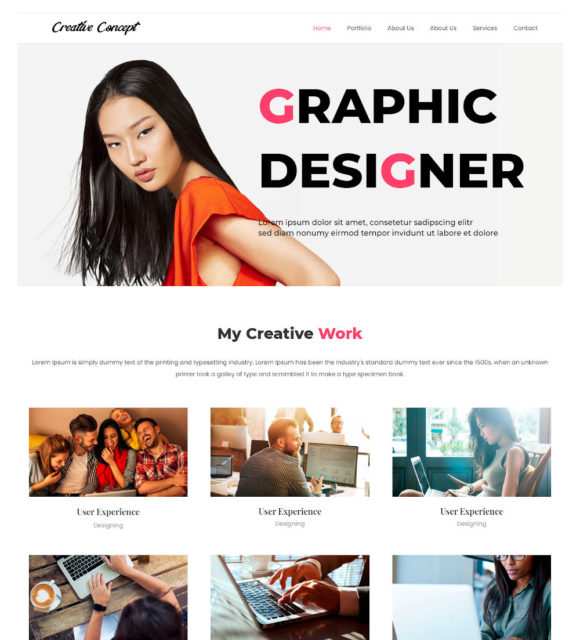 Always wished to create your very own site? Start building your creative portfolio using this designer template!
It is specifically designed to accommodate your portfolio, creatives, and other personal achievements or showcased material.
For freelancers looking to develop a sleek and easy-to-follow website made for prospective clients to visit, fun and simplicity in the workflow are a guarantee with Creative Concept.
If you place order forms or create payment setups to reduce off-website financial management, these top-notch secure payment gateways save you tremendous time.
This zero PrestaShop pricing theme's features include but are not limited to:
Bootstrap framework for easy access through all devices
Cross-browser compatibility helps view your site on all browsers
Multilingual support
Google Font Integration
Custom CSS and JS integration
YouTube video integration
RTL support
Google font integration
Also Read: PrestaShop Vs. Shopify: Which E-Commerce Platform Is Better For You?
12. Fresh Food- PrestaShop Theme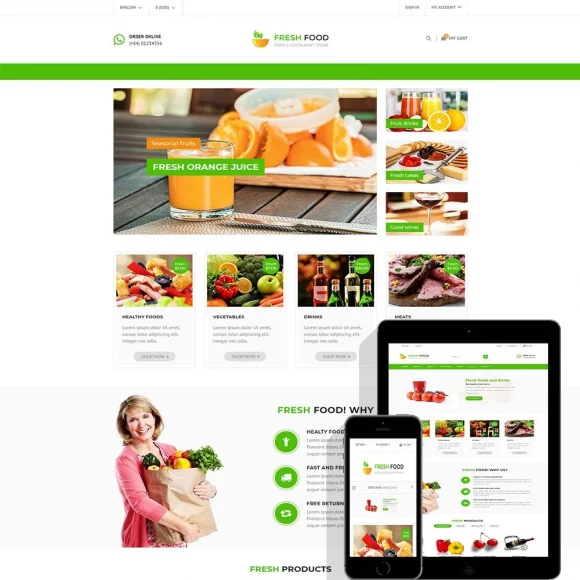 The Fresh Food PrestaShop theme is perfect for all kinds of store owners as it is reliable and built for presenting gastronomical experiences at their finest. Keep in mind that the aesthetics will get your stomach starving, and the range of layout and preset color offerings will shock you.
Be it for showing high-quality food images, mouth-watering food videos, or short descriptions that make the reader feel like they tasted the food; Fresh Food is a game-changer for cloud kitchens, caterers, chefs, eateries, and more.
To add on, considering how food businesses hold the potential of having customers share their content based on likability, the widgets regions, and social sharing options give your business the reach it deserves!
This theme contains many advanced features, and a few of these are:
3 contact page layouts
2 product page layouts
Google maps contact form
Nivo slider with text transition effects
1-page checkout
Rich mega menu module
Powerful theme editor (with live editor)
Layered PSD included.
#13. Digital Store: PrestaShop Theme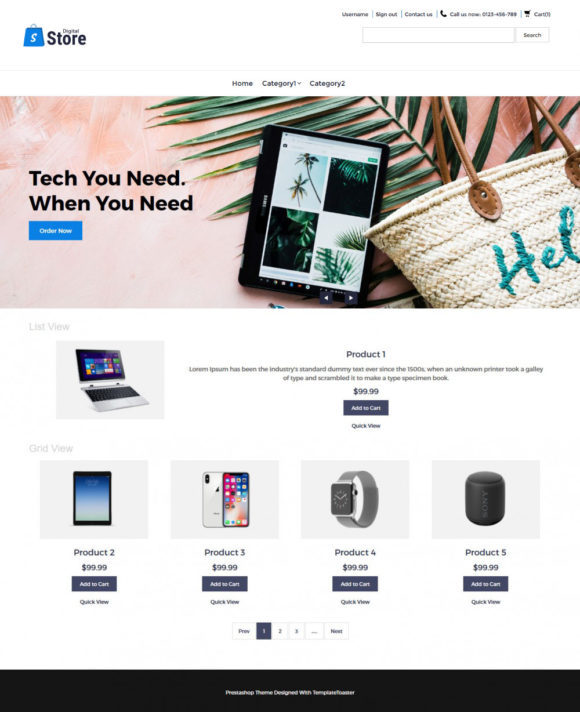 If you run an appliance or digital store, this theme gives you the modern and technological edge your business needs. Moreover, this trendy PrestaShop theme comes at no charge and is created especially for the business of electronics, from cameras to refrigerators.
Its built-in theme framework and attractive appearance enable engagement and will boost your business to new heights – mainly through improving your sales numbers, increasing time spent by customers on the product page, and converting checkout page customers at a higher rate.
Features like:
Multi-Language support
Multi-currency support
6 homepage layouts
8 preset color skins or suppose custom colors
SEO optimization
Powerful theme editor (with live editor)
Multi-layer slider with great text transition effects
And so much more help run your digital store safely and reliably.
Verdict
Running an online business has never been easier than with PrestaShop. All the above themes cater to various brand and customer requirements, which will open new doorways for your eCommerce business.
New and refined approaches like social media reach and SEO optimization help people all over the globe to engage with and purchase your products. Although PrestaShop pricing bothers many entrepreneurs, provided here are free of cost and utterly dependable themes.
Are you looking to tweak specific parameters in any of these themes? Do you sense the need for expert designers?
Our experts have worked with numerous such themes across any niche you could think of – book a demo today!