75% Recurring Revenue, 65% Profit Margins – 2021 Report
2021 was another great year for ecommerce and Clicboutic. Let's take a look at what happened.
€240,278 revenue & €150,071 profits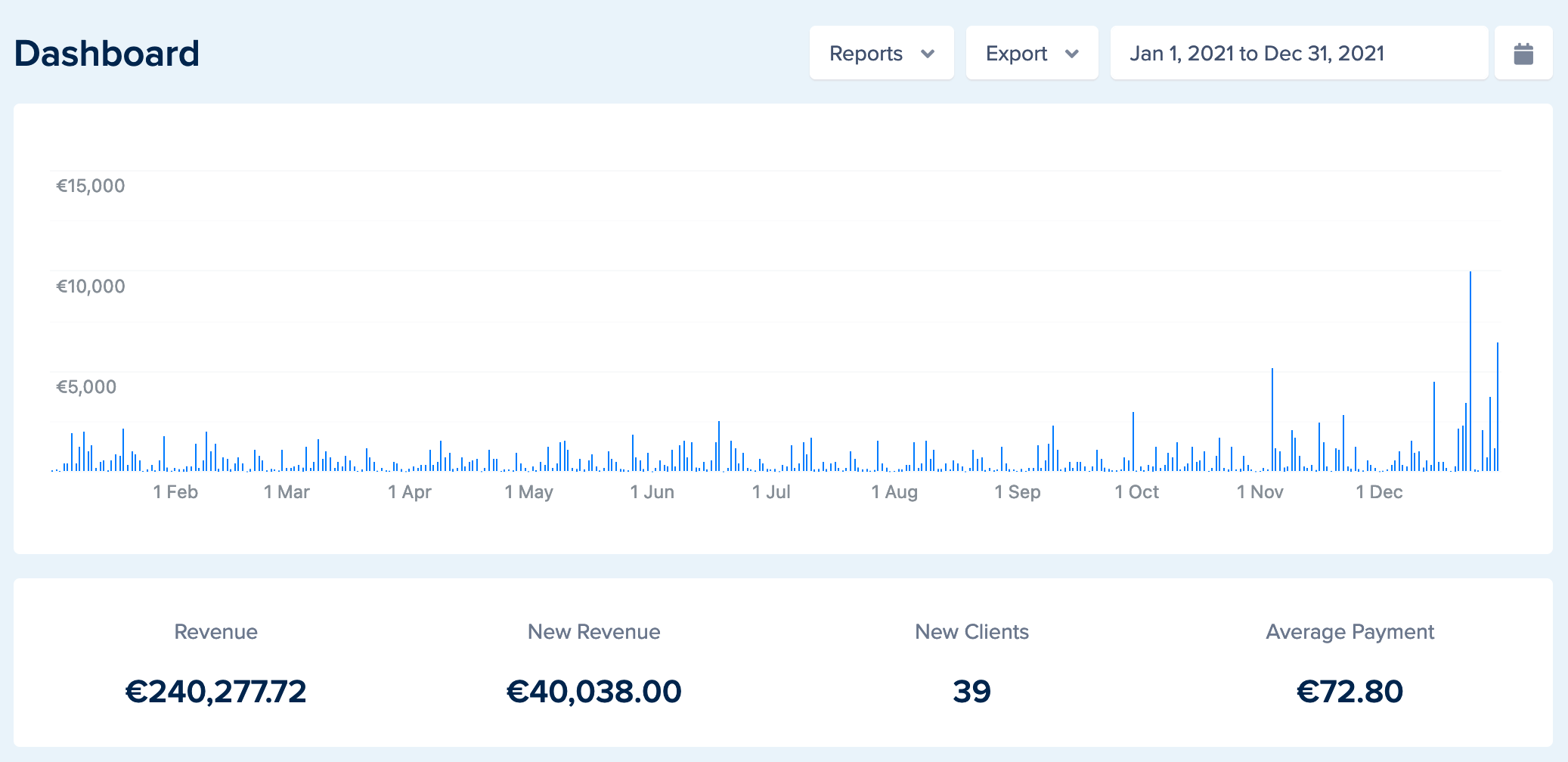 Closing the year around the €240,000 mark for the third year in a row has validated our strategy to build a predictable revenue model giving priority to recurring subscriptions. At the same time, our gross profit margin keeps improving to reach 65% and is way above web agency profit margins.
This figure is made up of €170,153€ in Annual Recurring Revenue (ARR) and €70,124 in one-off jobs.We acquired 34 new clients this year. A remarkable achievement since we've only started to spend money on acquisition again in October 2021 (but more on that later).
People, product and process
People
Our core team is now 4 people strong with an additional 4 Clicboutic Experts regularly collaborating on client projects.
In addition to the kickoff weekly video call on Monday, we added a wrap-up call on Friday. This enables each team member to share their concerns, talk about their goals and have an outlet for any issues they need to raise.
Working in a remote environment is difficult and we still have room to improve. We use input from our development team to improve the processes that are used to support our customers, as well as get to know them better as people and find out how we can better motivate and support them.
Product
We replaced a lot of tools we had been using to serve our clients until now and created a unified service and custom task management platform for PrestaShop stores. This new platform will help us better support ecommerce entrepreneurs in 2022 by combining access to high-quality Experts, cost-effectiveness and responsiveness.
The only drawback is that we won't have HelpScout anymore for our customer happiness reporting. We'll have to find a way to replace this feature.
Before the switch, customer happiness was pretty high. Unhappy customers were down from 5% in 2020 to 3% in the first half of 2021. A good improvement but we still want to do better.

40 projects completed – Adding a Services Catalog to our existing Hosting & Support plans has meant a net increase in the number of projects our team worked on in 2021.
We also published our first case study 👇
Comment Clicboutic a aidé Camping Sport à migrer vers Prestashop 1.7
Our goal is to publish at least one case study per service in our catalog in 2022.
Process
The number of new entries in our SOP library slowed down in 2021. It will definitely be a priority in 2022.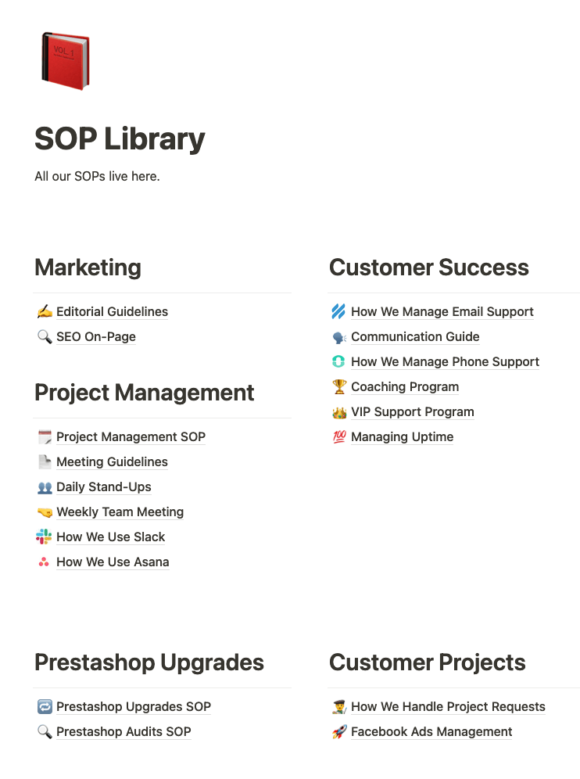 We also relaunched customer acquisition efforts again for the first time since 2016. Our goal is to grow our revenue by 25% in 2022. After 3 months of experiments, we're happy to have found 2 profitable acquisition channels that we'll be looking to scale in Q1 2022, more on that below.
Website traffic
We increased our website traffic from 35,393 visits to 41,599 visits (+17,5%) in 2021. We consider this a good result given the lack of fresh content published during the year.

Traffic sources
More organic traffic and more direct traffic boosted our numbers in 2021.
This validates our strategy of focusing on Evergreen Content (articles that stay relevant and "fresh" for readers over a long period of time) to rank high in Google for keywords our target audience is searching, such as our Ultimate Ecommerce SEO Guide or our PrestaShop Theme Selection Guide.
We do need to ramp up our efforts in 2022. With a pipeline of 12 long pieces ready to be published, it should not be a problem.

Email list growth
We added 171 new subscribers to our email list (10,671). Clearly something we neglected in 2021 and that will require more diligence this year as it has historically been a good channel to nurture relationships with our audience.
The first step will be to audit and streamline our existing automations to better reflect our catalog of products and services.

Marketing and acquisition
As I was saying earlier, we successfully launched two new acquisition channels that are starting to pay off.
In terms of funnel performance during Q4 2021, we got 367 new leads. From these 367 leads came 16 demos and 9 of them became customers at an AOV of €2,155 and a CAC per customer of €483.
We added an additional 2 sales from these demos in January which means we closed our demo- to-sales at a whopping 70% conversion rate. Next step is to reduce the CAC and improve the leads-to-demos funnel.
We also did a soft launch of our partnership program and onboarded our first agency partner through our white-label reseller module in 2021. This allowed us to add €9,800 to our annual revenue.
What's coming in 2022 ?
And lastly I want to share with you our roadmap for 2022.
(1) Double down on acquisition efforts:
Our main focus will be to grow our annual revenue to €260,000 in 2022 without hurting our profit margins.
To reach this goal, we will be looking to double the number of leads acquired through our main acquisition channel. To maintain a high LTV-to-CAC return ratio, we will add a systematic upselling strategy to our subscription plans once a project has been delivered.
(2) Online ecommerce incubator:
Another important goal for our team this year is to build more relationships with ecommerce entrepreneurs. This means, publishing fresh content and helpful tools to acquire more targeted organic traffic and email subs.
In 2019, we launched our first paid online course for new ecommerce store owners. In 2022, we will be releasing it for free to help our audience grow their business by building a profitable ecommerce from the ground up.  With 38 lessons, 45 worksheets and 6 hours of video, it's a lot to unpack.
(3) Footer signature addon
To increase our referral traffic, we will be pushing a new addon to our client websites soon.
This addon will basically display a Clicboutic signature (with a clickable link to our website) in the footer of the storefront of our clients. Of course, an option to turn it off will be available for those who don't wish to have it.
(4) PrestaShop theme catalog 
And finally we will ship new features to our website. Our development efforts will focus on a new landing page, a how it works page to better explain our new positioning as a Webmaster-as-a-Service and a new PrestaShop theme catalog with 200+ free templates available for our clients.
That's a wrap!
See you next year to follow up on our progress towards our goals 🙂