New Product, New Team Members – 2022 Report
It's that time of the year again… Here is Clicboutic's 2022 yearly report.
€241,959 revenue & €142,578 profits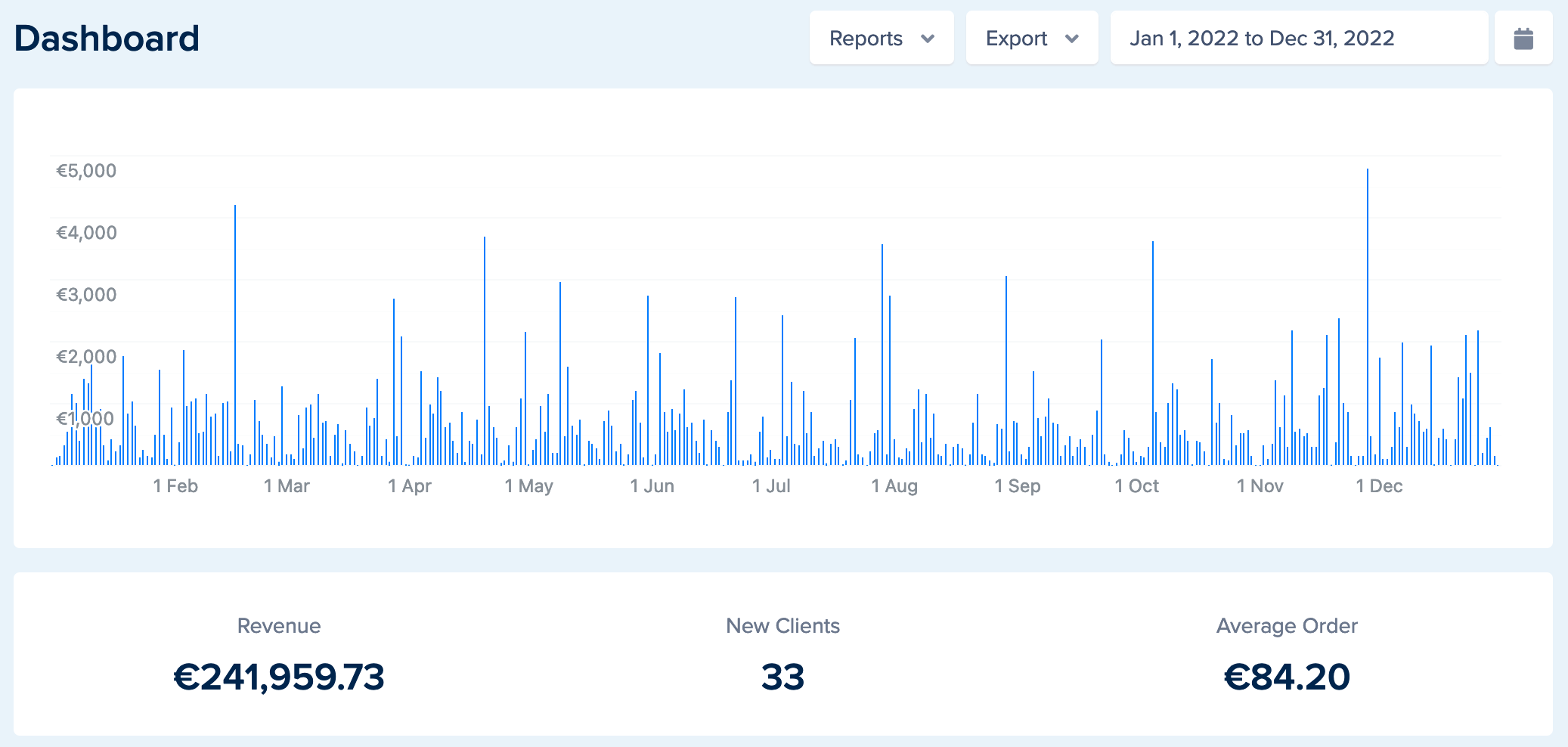 Although we closed the year around €242,000, the actual revenue that can be attributed to 2022 is closer to €252,000 as we billed a fixed price package of €10,000 to our first white label partner in December 2021 for jobs carried out in 2022. The €242,000 figure is made up of €160,726 in Annual Recurring Revenue (ARR) and €81,234 in one-off jobs. All the important KPI that I track for our business also improved:

People, product and process
People
Our core team grew from 4 to 7 people this year with an eighth developer who should join us soon. We tested out 19 new developers and ended up hiring 3 excellent PrestaShop experts. Thanks to our processes, we were able to get them up to speed fairly quickly. Although they joined us recently, their impact on our overall productivity is already being felt and our project delivery time has improved significantly. The next goal is to systematize the tracking of the resolution time of the technical requests of our customers.
Product
New product: Since the launch of our productized services catalog last year, our vision has always been to eventually offer a subscription that would allow online store owners to get all their website tasks done for one monthly flat-rate. After months of building up our operational capacity and refining our offer based on customers' feedback, our new service was finally launched  🎉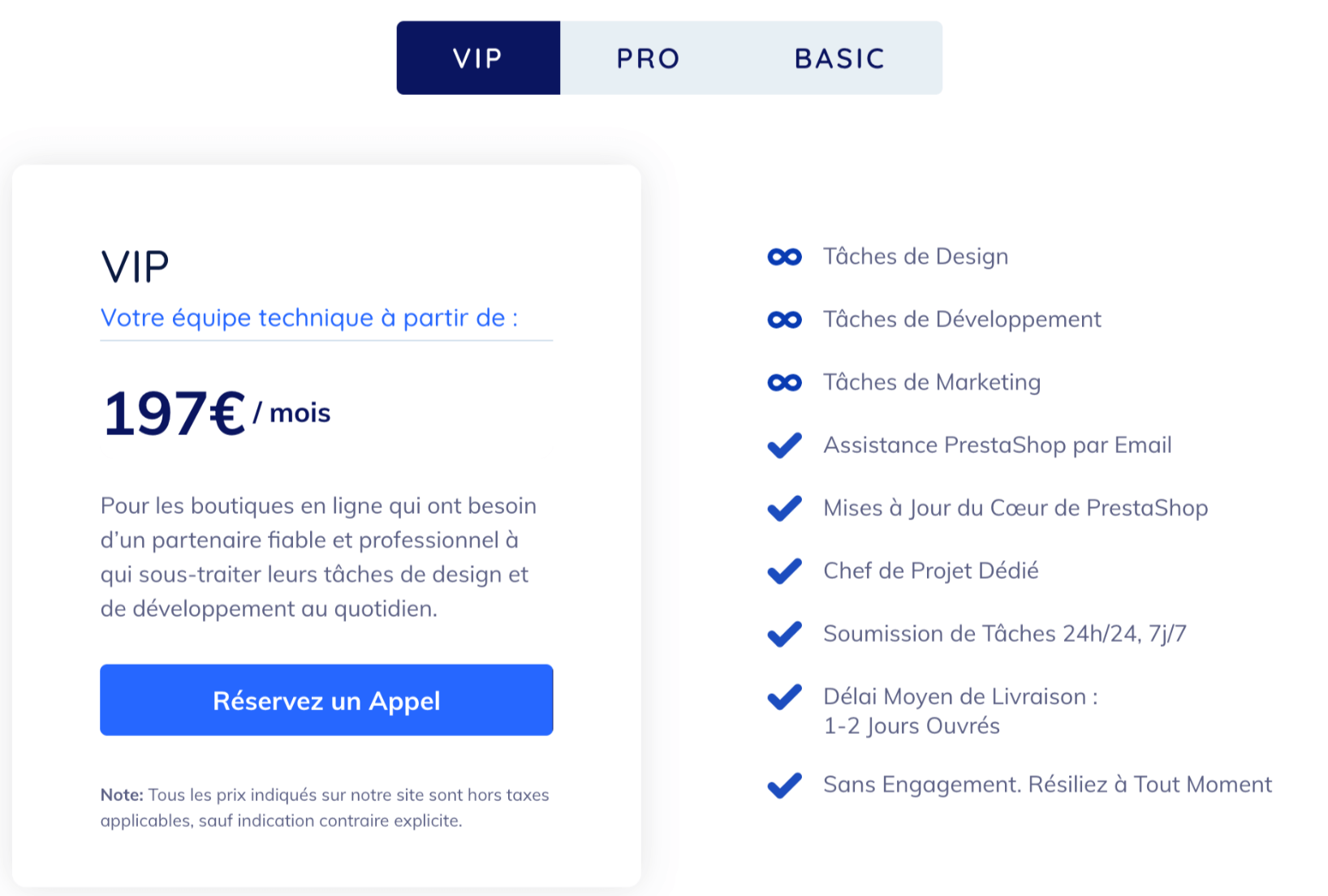 New addon: To increase our referral traffic, we launched a new PrestaShop addon. Our platform automatically pushed it to our client websites to display a Clicboutic signature (with a clickable link to our website) in the footer of the storefront like below 👇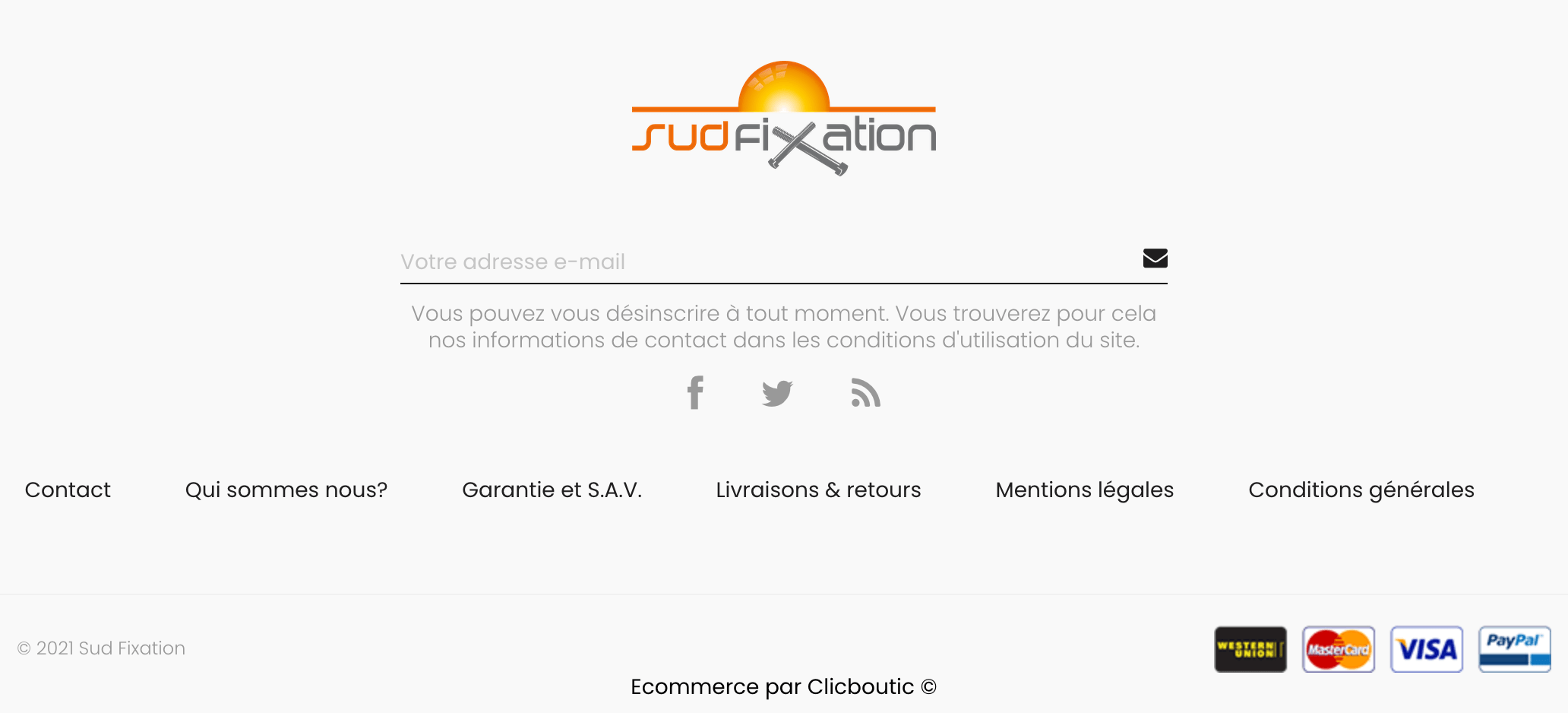 New backup system: We also improved our existing backup system to improve 1-click restore on our platform. It was also an opportunity for us to move the storage of backup files to a different hosting site to increase security. 87 projects completed – We more than doubled the number of projects completed compared to last year and intend to keep growing this part of our business in 2023.
Process
Most of our operational focus was to get Cédric off production projects so that he can dedicate himself fully to support and project management. This involved standardizing and documenting several processes related to client projects such as theme customization. It really helped with making our new developers autonomous in a lot of regular projects we get.
I personally worked on refining our hiring system and I'm happy to say it paid off. It also gives us the confidence to rely on this process when we'll need to add new developers to our team in 2023. We want a uniform and streamlined way for Clicboutic Experts to integrate into our organization, assign them new tasks, help them deliver quickly and manage customer expectations while working on their store.
Website traffic
Our website traffic took a hit because of a wrong configuration change I made in February that resulted in our blog being offline during that period 🤦🏻‍♂️ While we didn't publish any new blog posts in 2022, we know the potential of this channel to acquire new users and it will be one of our main focuses this year.

Traffic sources
Not much to report here except for the blog was obviously under exploited.

Email list growth
We added 58 new subscribers to our email list (10,729). Our email marketing channel is an untapped source of acquisition that will be relaunched in 2023.
Marketing and acquisition
In terms of funnel performance during 2022, we got 1147 new leads. From these 1147 leads came 83 demos and 30 of them became customers at an AOV of €1940 and a CAC per customer of €472. As we started experimenting with partial payments to increase conversions (pay 50% now, 50% at delivery) and are switching to a subscription model (rather than one-off projects), our immediate AOV slightly decreased (but our CLTV increased by more than 30%).
What's coming in 2023 ?
Our main focus will be to grow our annual revenue to €300,000 in 2023 by implementing a growth strategy that I'd like to keep secret for now 🤫 That's it. See you next  year to follow up on our progress towards our goals!